How to Use the Luxor Derivatives Order Book for Hashrate Forwards
In an effort to promote better price transparency for Luxor's Hashrate Forward markets we are launching a new order book view in the Luxor Derivatives dashboard. The Luxor Derivatives Order Book will show current bids and offers for all of our Non-Deliverable Forward contracts and also provide a simple method for onboarded clients to submit new bids and offers.
The order book shows the price levels at which buyers are willing buy the contracts and also the size they are willing to buy. These levels are indicated in green. Similarly, the red levels indicate the price levels where sellers are willing to sell and the appropriate size.
Users can look at both USD and BTC-denominated contracts by selecting their preference at the top right of the screen.
The order book will always show the current six months of open contracts. New contract months are listed as soon as the current month expires.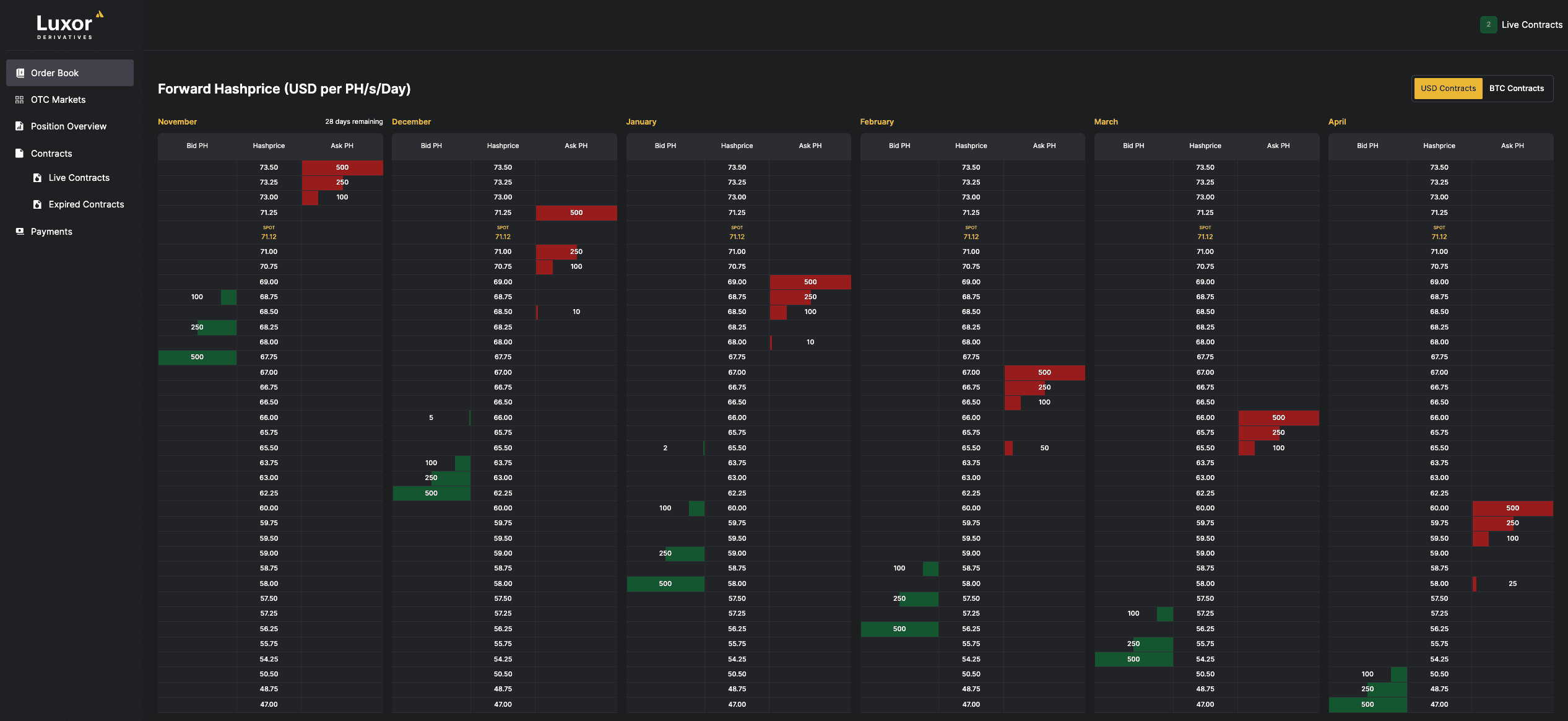 Creating New Hashrate Orders
Users can enter new orders by selecting the "Add New Order" button in the bottom right corner. This button takes you to a new order form for submitting new bids and offers.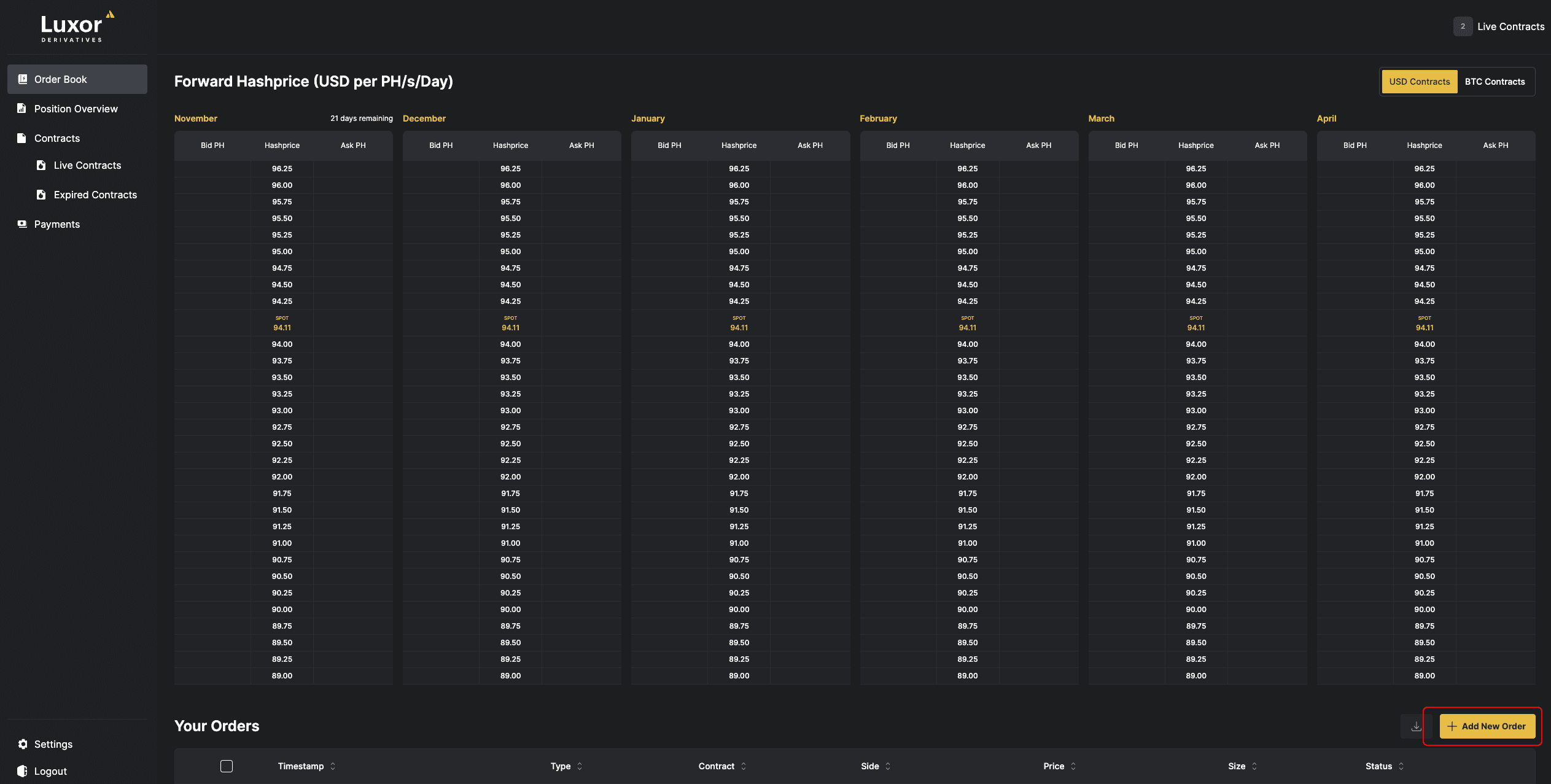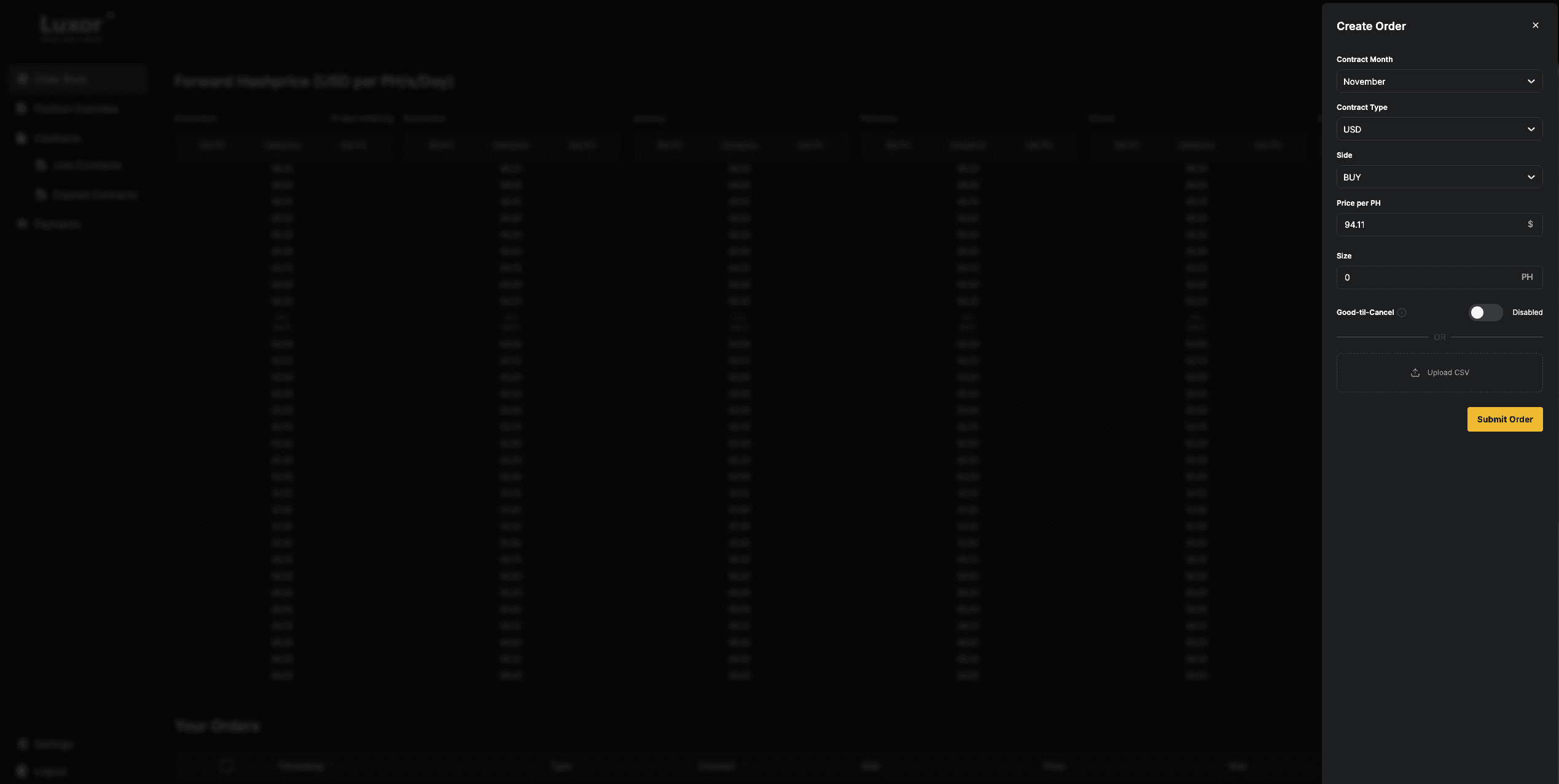 Users can also batch upload multiple bids and offers, across both USD and BTC denominations.
New orders are considered as "good-for-the-day" by default and will be canceled at the end of the UTC day unless the "Good-til-Cancel" option is selected.
Lastly, users will have the ability to cancel one, or all, of their open orders at any time, using the Your Orders table below the Order Book.
💡
This functionality is only available to customers that have completed the ISDA onboarding process with Luxor.
Matching and Executing Orders
When orders are matched – meaning buyers and sellers agree to a price and quantity – the Luxor Derivatives team is notified and we will contact the appropriate counterparties to confirm the trades.
We do not match trades on the platform , and the order book is a representation of the price level at which parties are willing to buy and sell Hashrate Forwards.
💡
As a reminder, Luxor is the counterparty to both the buyer and seller of the trades.
Trade Notifications
When trades are confirmed and executed, we will notify interested parties on our Telegram group channel. This is a one-way channel where the team provides market statistics, useful information and updates, and trade execution details.
Disclosure
The Luxor Derivatives Order Book is not an execution system or platform. The Luxor Derivatives Order Book is only used to show the state of current bids and offers. In accordance with Section 5h(a)(1) of the CEA, market participants do not have the ability to transact with multiple market participants on this or any other Luxor platform. All communications are recorded and maintained in accordance with CFTC rules 1.31 and 1.35.